A sunlit journey towards excellence
Welcome to Fleurs 'D Olagues Restaurant.
Let us give you a wonderful experience.
Restaurant booking


The kitchen team enjoys working with the best of produce from an area that is extraordinarily rich in its natural harvest. Marrons (a kind of super-chestnut) from Olargues have earned their own AOC (French state certificate of origin and quality), and the village celebrates the autumn harvest with La Fête du Marron in early November. Local cherries and apricots are among the finest in southern Europe.
The virgin olive oil, used extensively in the kitchen, comes from the olive trees of a local producer whose output is so small and of such high quality that Joan is reluctant to identify him. The succulent beef comes from river pastures further up the valley.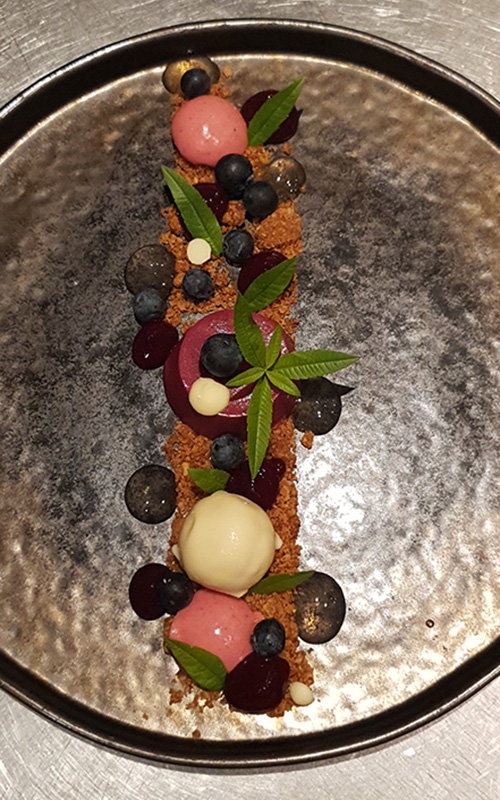 Fresh Ingredient, Tasty Meals
Presentation is superb, so artistically conceived that sometimes you feel disinclined to disturb the beautiful arrangement on your plate. More basic instincts generally prevail, though.
Crème au fromage de chèvre

The service, the surroundings and the food are top class. Really worth a visit. The village is named as France's most beautiful village. And it is not without reason.
Altkan

"Fantastic lovely place with fantastic lovely food. French food at its best. The restaurant is Danish-owned and run by the family for two generations. Ask about the history of the place and get a nice story about the whole building and work on founding and running the restaurant. Nice to hear. Although to feel the passion that the proprietors feel….."
Frank Denmar

"Atmosphere / location / rooms / service / restaurant / food ❤️alt are top
Joan, Anders and their family have created a very special place in a beautiful little town. A cultural gem."
Anne-Marie S

"Excellent food and service"
"It was our third visit to the restaurant. Every visit has been as good as the last. This time my 4-year-old Grandaughter was present. The attention we received was excellent, the food and the wine. The atmosphere was comfortable and spacious so that other guests were not bothered by the noise of other tables not yet isolated. The icing on the cake is a nice evening view of the village and the river. We look forward to our next visit."
Brian H.
Save the date in your calendar with the upcoming special events around the village of Olargues as well as extraordinaire arrangements at Fleurs D' Olargues Restaurant.
   March-May &  October-November
THURSDAY – SUNDAY
LUNCH: 12:00am – 14:00pm
DINNER: 19:00pm – 21:00pm
TUESDAY – SUNDAY
LUNCH: 12:00am – 14:30pm
DINNER: 19:00pm – 21:30pm
MONDAY 
We are closed except on holidays
Address
Pont du Diable – D908 – 34390 Olargues